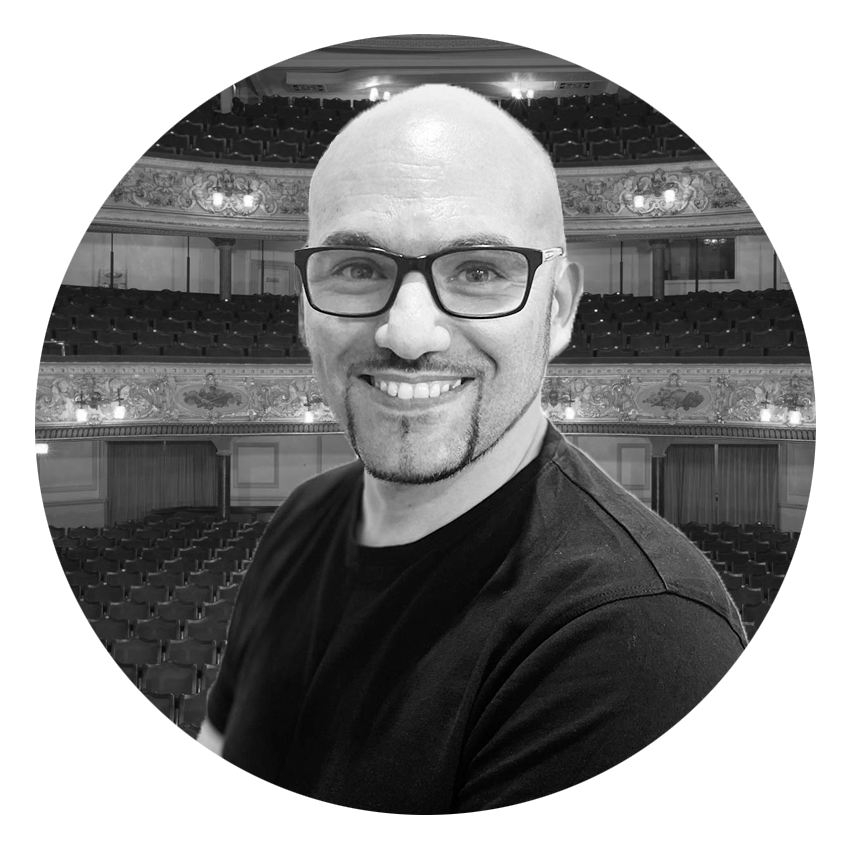 Musical Director | Singing Teacher | Choir Leader
Hi, I'm Joe. I am a Musical Director, Singing Teacher and Choir Leader. My passion lies in Musical Theatre.
I am an accomplished musical arranger and songwriter and have arranged for choirs, theatre groups, and community groups.
I have also co-written sings and orchestral arrangements with a local record label.
I have Musically Directed a number of amateur dramatic societies and run adult and children's choirs.
I have a passion for teaching student to use their voice safely and effectively!
I enjoy sharing and teaching music to the students I meet.  I have a passion for Choral Singing and want to 'Get Britain Singing!'
Music has to be fun. If it's fun, even though it might be hard work, the students will enjoy the challenge!
Musical Direction
Joe has been Musical Director for lots of shows in a number of settings. With a passion for Musical Theatre, Joe enjoys the challenge of bringing a show to life through music.
Choir Leader
Joe is a charismatic and exciting Choir Leader with a passion for "Getting Britain Singing"! He currently conducts two adult community choirs and two children's choirs.
Singing Teacher
Joe has been a self employed Vocal Coach for approximately 15 years now. He coaches all levels and styles of singers and speakers all over the country. Specialising in vocal health.
Track Production
Using high quality industry standard modern technology, Joe's studio can create wonders. From orchestral beauties to pop masterpieces and even musical theatre magic!
Arranging & Scoring
Joe has arranged a wealth of music. Ranging in style and ensemble size, Joe has arranged and scored music from Voice & Piano and various choral settings, to full orchestra.
Credits
Musical Director credits: Oliver! (Garstang Musical Productions); Legally Blonde (St. Ambrose Players); Aladdin (Festival Drayton Centre); Dick Whittington (The Met, Bury); Calendar Girls (Garstang Musical Productions); Sister Act (St. Ambrose Players); Dick Whittington (Festival Drayton Centre); Robin Hood (Lawrence Batley Theatre); My Fair Lady (Garstang Musical Productions); Revuesical (Garstang Musical Productions); Seasons Of Life (Garstang Musical Productions); The Sound Of Music (Brookdale Youth Theatre); The Addams Family (Garstang Musical Productions);  Bugsy Malone (Brookdale Youth Theatre); High School Musical (Brookdale Youth Theatre); 9 to 5 (BOS); Ushers: The FOH Musical (PMCS); STAR Choir 4 (Lancashire County Council); Jack & The Beanstalk (NADOS); Peter Pan (BFCP); Grease (Cardinal Allen High School); STAR Choir 3 (Lancashire County Council); Cabaret (Lancaster Royal Grammar); STAR Choir 2 (Lancashire County Council);We Will Rock You (All Hallow's High School); Jesus Christ Superstar (Lancaster Royal Grammar); The Lion King (Boathouse Youth); Les Miserables (Crescent Theatre, Birmingham); Les Miserables (Lowther Pavilion, Lytham); Jesus Christ Superstar (All Hallow's High School); The Big Christmas Sing II (Preston Minster); We Will Rock You (Boathouse Youth); Little Shop Of Horrors (Grand Theatre, Blackpool); Hairspray (All Hallow's High School); The Big Christmas Sing (Preston Minster); Blood Brothers (Boathouse Youth); Hairspray (Boathouse Youth); West Side Story (Grand Theatre, Blackpool); Oliver! (Boathouse Youth); Billy Elliot the Musical (Grand Theatre, Blackpool); Hairspray (North Pier Theatre); Billy Elliot the Musical (Lowther Pavilion, Lytham); Oliver! (North Pier Theatre)
Choir Leader credits: ShowChoir Limited; Magic Voices; Preston Musical Comedy Show Choir; Archbishop Temple Choirs; Chorley Children's Choir;
The Capricorn Singers; Preston Children's Choir; Ormskirk Children's Choir; Preston Community Choir
Teaching: Cardinal Newman College; Runshaw College; Archbishop Temple School; Lancaster Royal Grammar School; Hodgson Academy; Cardinal Allen High School; All Hallow's High School; Ashton Community Science College; Lancashire Music Service – various Primary Schools across the County; Fame School Of The Arts; Scream Theatre School; Carol May School Of Dance